The Electrified Future – Mick Raven
United Firefighters Union Australia warns governments to address lithium-ion battery fire risks during electric vehicle crashes
Charlotte Gore and Emma Thompson
The firefighters' union has urged the federal government to reduce the risks posed by electric vehicles (EV) and other lithium-ion battery technologies.
Key points:
The main firefighters' union says the public needs to be more aware of the risks posed by lithium-battery fires
EV fires are difficult to put out and can release toxic gases
After a crash, EV owners are advised to warn emergency responders that their car has a battery
The United Firefighters Union Australia (UFUA) wants regulation and public education campaigns for battery fires, both in vehicles and battery energy storage systems (BESSs), which are used in homes and businesses.
Lithium-ion batteries can start fires and even explode if they ignite or overheat.
UFUA national secretary Greg McConville said the union welcomed the growing use of EVs and BESSs to reduce harmful climate emissions.
However, he said the technologies posed unique hazards that authorities must address.
"New EV sales within Australia increased by 65 per cent in 2022, and with the rapidly increasing take-up of these, and BESSs, the issues are growing exponentially," he said.
"When the integrity of lithium-ion batteries is compromised, the energy they store is released as heat, known as 'thermal runaway'.
"This can cause fires that are extremely difficult to extinguish, while releasing an extraordinary array of deadly toxic gases.
"There's no greater likelihood of an EV fire than a combustion-engine car fire, but when they happen the risks are huge and the consequences are enormous."
'A new and emerging hazard'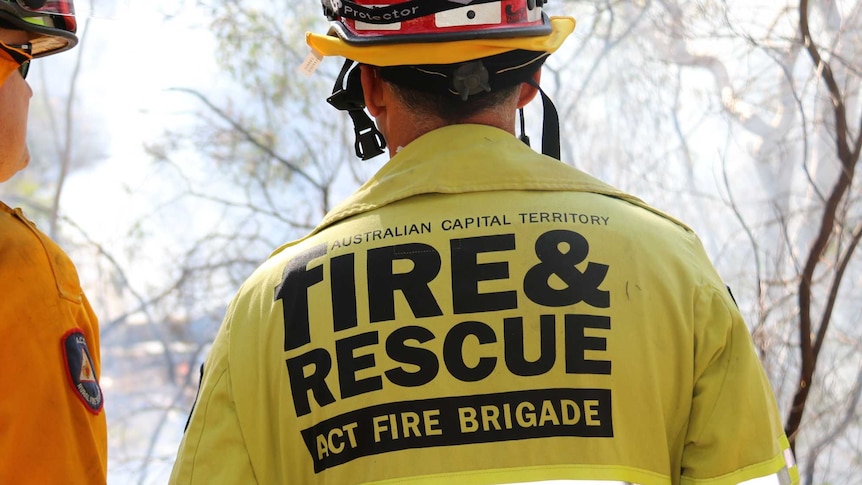 Not all firefighters have joined the UFUA's call for new policies on battery fires, but most understand the potential dangers of responding to an EV collision.
ACT Fire and Rescue superintendent Greg Mason said less was known about EVs than other cars because they were newer, but firefighters took specific precautions at EV crash sites in Canberra.
"They are a new and emerging hazard for us but, as in the past, as new and emerging hazards have come to our attention, we developed in consultation with other fire services the best response to them," he said.
"What we try to do is — if the vehicle is not on fire — watch to see if there's any change in the state of the vehicle in regards to the battery pack on-board to see if we can determine whether [it] is still intact, that it's not going to go into a fire condition or a thermal-runaway condition.
"It's reasonably straightforward, [but] it's something that's new to us as an industry, so we're still developing some of the finer techniques."
Mr Mason said it might seem obvious, but a crucial part of responding to vehicle collisions was determining whether any of the vehicles had a lithium-ion battery, so as to keep observing them.
To help first responders, electric, hybrid and hydrogen-powered vehicles built after 2018 must have an identifying label on the front and rear number plates.
Mr Mason said this requirement was helpful but firefighters were not guarantee to see the labels.
He said owners should tell responders if their car had a battery as soon as possible after a crash.
"The label on the number plates is an indicator for us, but if the vehicle is damaged in such a way that it's not easily identifiable to us, then the owner's information – that their car is an EV or is a hybrid – is always a benefit," he said.
"In the past it used to be LPG vehicles. That system has carried over to EV and is definitely a great deal of assistance to responding crews."
Calls for education, training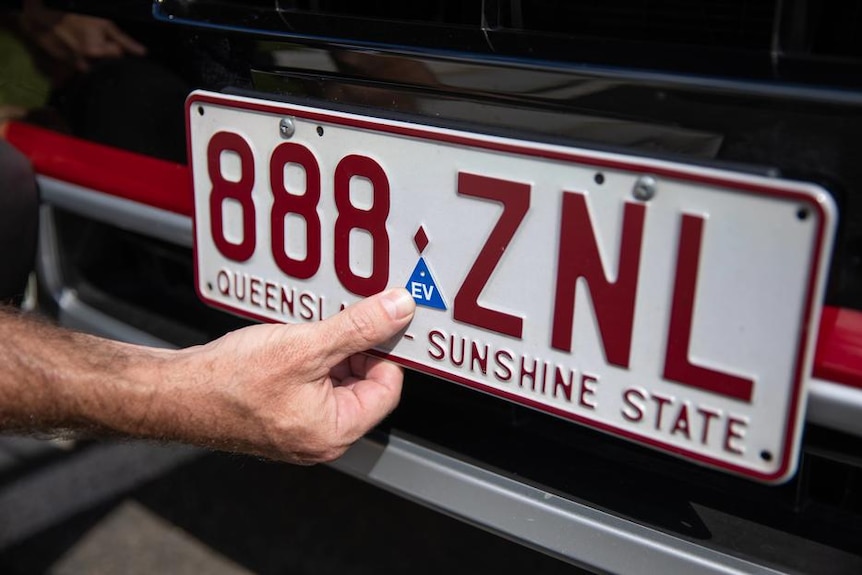 Lithium-ion battery fires release toxins such as carbon monoxide, hydrogen cyanide, hydrogen fluoride and cobalt.
Mr McConville said these toxins were particularly dangerous for firefighters because they were absorbed through the skin and clothing could not protect against them.
"[Carbon monoxide and hydrogen cyanide] both prevent the body using oxygen, and cyanide affects organs that rely on high levels of oxygen, such as the heart and the brain," he said.
"We've already had a situation in Victoria where two firefighters suffered cobalt poisoning after attending an EV fire, and have now been permanently disabled as a result.
"These toxins also present a major risk to other emergency services personnel, such as police and ambulance officers, bystanders and the broader community, and as such every possible measure must be undertaken to mitigate their impact."
Mr McConville said more needed to be done to keep Canberrans safe.
"This must involve education of the public on the associated risks, and additional training and resourcing of firefighters to manage these extremely challenging incidents," he said.
"Building regulations relating to the installation and location of BESSs and charging facilities must also be overhauled to address the risks and hazards of fire.
"Additionally, research must be undertaken on health impacts of lithium battery fires on firefighters, and new methods and equipment developed to mitigate potential poisoning by lethal toxins.
"This is a major emerging policy challenge, which, for the safety of the firefighters and the community, we urge Australia's governments to confront with the commitment that our members demonstrate every day."
Teenagers killed in fire after Tesla crashes, battery bursts into flames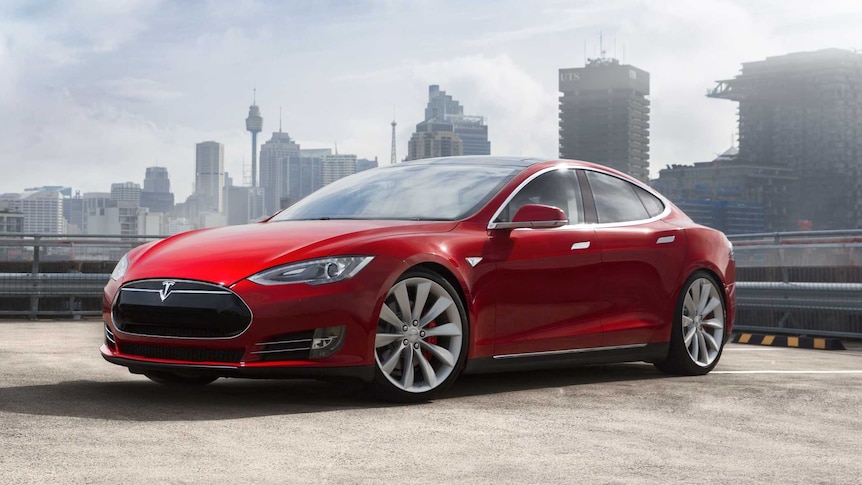 Safety investigators in the US are investigating a crash in which the battery of a Tesla electric car caught fire, burning two teenagers to death.
A witness to the crash in Fort Lauderdale, Florida, said the Tesla Model S was being driven fast and spun out of control. It then crashed into a wall and caught fire.
Police said two 18-year-olds were trapped and died when the car became engulfed in flames.
Another teenager was thrown from the car and was taken to a hospital, where his condition was unknown.
The witness said he tried to help the teenagers but the fire was too intense to get them out of the car.
Lithium-ion batteries like those used by Tesla can catch fire and burn rapidly in a crash, although Tesla has maintained its vehicles catch fire far less often than those powered by petrol.
The National Transportation Safety Board (NTSB) said a four-person team would focus on the emergency response to the incident.
It said it did not expect Tesla's semi-autonomous Autopilot system to be a part of the investigation.
This is the second time in the past two months the NTSB has investigated a Tesla fire.
A probe is underway into a fire in a Tesla Model X SUV that crashed on a freeway near Mountain View, California, on March 23.
NTSB spokesman Chris O'Neil said investigators did not know what caused the battery fire in this week's crash.
He said the agency was investigating because there was a post-crash fire involving an electric vehicle.
Fears fires caused by lithium-ion batteries will 'increase considerably' as popularity of electric scooters rises
Melanie Vujkovic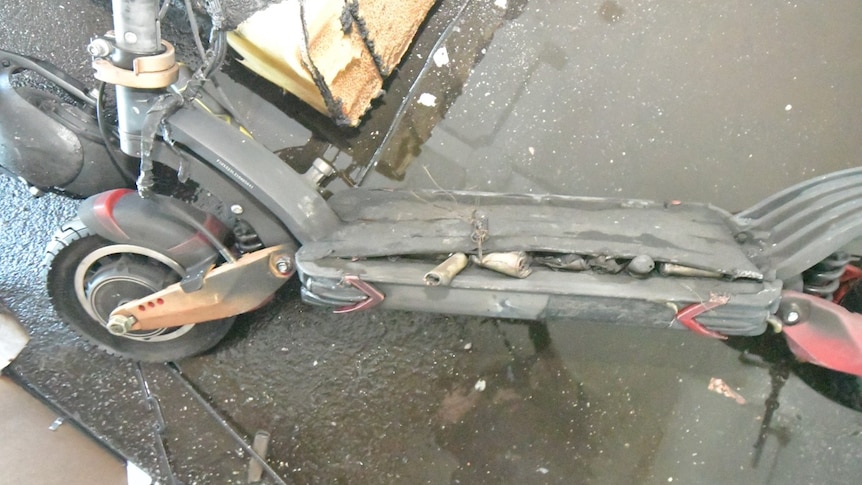 Firefighters are concerned the number of residential blazes being triggered by rechargeable lithium-ion batteries will "increase considerably" over coming years, as devices like electric scooters become more popular.
Key points:
Two fatal fires in Brisbane and Logan are believed to have been caused by a charging battery
Lithium-ion batteries can be found in almost every battery-powered domestic item
"Typically" fires are caused by human error, QFES safety head says
There were 46 fires ignited by the common type of batteries in Queensland during the last financial year.
This is the first time statistics specifically listing them as the cause of a blaze have been kept, after Queensland Fire and Emergency Service (QFES) crews noticed it becoming more common.
Superintendent Mark Halverson, executive manager of QFES's safety section, said the number is "increasing rapidly".
"With the proliferation of devices that now are powered by lithium-ion batteries, that number is likely to increase considerably in the coming years," he said.
There were two fatal fires in Brisbane and Logan this year, believed to have been caused by a charging battery.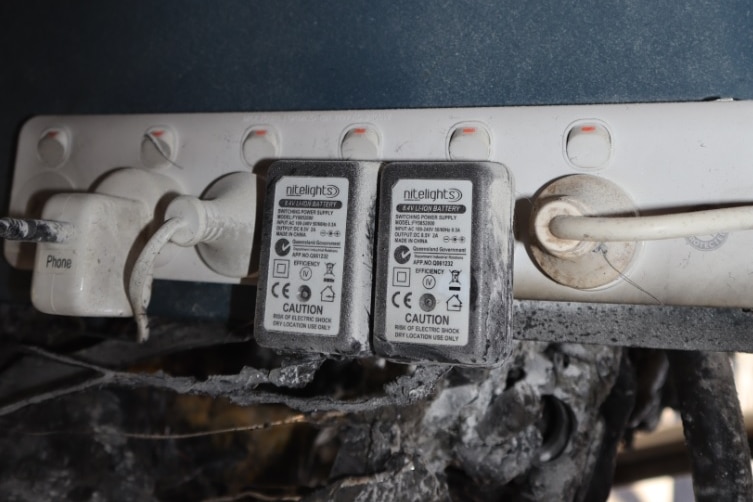 In March, a 22-year-old man was killed when a fire erupted in the caravan he and his pregnant partner were in, while in April a six-year-old boy was killed in an intense house blaze.
Up to 150000 liters of water needed to put out a fire inn an Electric car
18 Sep 2022
…Teslas may take up to 30,000-40,000 gallons of water, maybe even more, to extinguish the battery pack once it starts burning…"
A US fire service recently needed to use 24 000 gallons – almost 90 000 liters – of water to put out a battery fire in a Tesla in a parking lot car fire. Studies suggest even more water may be necessary to put out fires in EVs. 
According to an article in Firehouse.com on September 16, a Tesla was burning in the city of Stamford, US.
Two engines, a truck company, and an incident commander were initially dispatched. In total, 14 firefighters were sent to the scene, as soon as it was determined the vehicle involved in the fire was a Tesla.
Fire crews started out by pouring 200 gallons of water on to the fire, however soon realized it wasn=t enough to handle the burning battery, so they hooked up a second engine.
A total of 600 gallons per minute was poured onto the fire for 40 minutes before they were able to declare the fire extinguished. That is in total 24 000 US gallons of water. 
In metric terms, 2200 liters of water per minute was poured on to the EV. Over 40 minutes of intervention, it amounts to a total of roughly 88 800 liters of water.
However, a Tesla might require twice that amount of water, or more, once the battery pack becomes fully involved.
According to an article onTheHill.com on August 17, 2021 it is considered normal procedure that firefighters will need to use up to 40 times more water to put out a fire in an EV, compared to a standard gasoline car.
The article also claims authorities have said a Tesla Model X poses a serious threat of starting a fire for hours after a crash.  
"Normally a car fire you can put out with 500 to 1,000 gallons of water," Austin Fire Department Division Chief Thayer Smith said, according The Independent.
"But Teslas may take up to 30,000-40,000 gallons of water, maybe even more, to extinguish the battery pack once it starts burning."
Woodlands Fire Chief Palmer Buck told Fox 7 that "there is no blueprint for putting out fires involving electric vehicles":
"There is not, at this point, any easily obtainable extinguishing agent on the market to deal with these fires. It all goes back to the way the cars are engineered with the battery pack being at the bottom of the car, and encased in a titanium shell, so you really can't gain access to it, you just have to sit back and pour water on it," Buck said.
A large part of the reason many EVs are notoriously difficult to extinguish may be due to the construction of the vehicle, with a heavily encased battery pack which is difficult to reach for the fire crews.
While normally, a conventional car fire may be put out with between 2000 and 4000 liters of water, an EV will often need a much more prolonged intervention because the battery is protected by a strong encasing. Because the chemicals in the battery will continue to produce their own oxygen to some degree, even when completely soaked, the water is often less effective than of conventional fuels.
Many experts recommend the method of submersion of a burning EV into a water filled container like a sea can. However, this is is not always practical or possible to arrange, and it also takes considerable time to fill the container which may be counterproductive when needing to protect surrounding vehicles or buildings from the EV fire.
Some fire services have improvised their own methods of partial submersion for EVs on fire, as CTIF.org reported on earlier this August.
Here's another  link to this Article – Mick Raven
Firefighters union calls for government action on EV fire risks CarExpert
Lithium Batteries exploding in a warming climate? smart people eh – Mick Raven