Coincidence? – Mick Raven
Successful Rain making operation
August 2008 to November 2008.
Willunga, South Australia.
Atlant Rain Making Array Station
Site of Atlant Rain Making Array Station
35°18'41.3 S 138°31'22.0 E – Google Maps
Site is now empty…mmm – Mick Raven
10 percent enhancement, not bad for 2008 eh! – Mick Raven
Why no more Rain making News from Atlant since then? – Mick Raven
ATLANT Rainfall Enhancement System
First Mount Lofty Ranges Trial
August–November, 2008
Introduction
Australian Rain Technologies (ART) has completed four rainfall enhancement trials
within Australia, using a ground-based, ion-emitting technology known as Atlant.
The first two trials were located in Queensland, Australia. The third trial, which is the
subject of this report, was conducted in South Australia in the Mt. Lofty Ranges,
which are located south east of the Adelaide metropolitan area. The trial was operated
from August to November 2008 inclusive. A fourth trial with Atlant devices in the
southeastern and northeastern Mt Lofty Ranges ran from August to early December
2009.
The first Atlant trial was conducted near the Wivenhoe Dam, which is the main
catchment area that supplies the city of Brisbane. This Wivenhoe Trial took place in
the months of May and June 2007.
The second trial was located at Paradise Dam,
which is 80km southwest of Bundaberg in the Wide Bay and Burnett River
catchment. The duration of this trial was from January to May 2008. Both trials were
conducted with the aim of measuring and comparing rainfall in a target area under the
influence of Atlant with rainfall in geographically distinct control areas, and both
trials were supervised by the University of Queensland.
Average monthly rainfall was substantially higher in the target areas in both trials.
However, the historical variability in rainfall between target and control areas made it difficult
to reach a conclusion regarding the statistical significance of the results.
In the Paradise Dam trial the rate of formation of ions and their dispersion from the
Atlant device was also measured to try to establish a physical link between ion
generation and precipitation. The observations allowed the calculation of ion
densities in the immediate vicinity of the generator.
However, the process of ion formation, recombination, attachment to aerosols
and subsequent dispersion was acknowledged to be complex and difficult to measure.
Demonstrating a causal physical link between the operation of the Atlant system
and increased rainfall would require a major research effort.
Demonstrating a statistically significant relationship between Atlant operation and rainfall
was seen as a prerequisite to such an undertaking.
ART is committed to developing experimental designs and statistical methods for
measuring the effects of ion generation and other enhancement technologies, more
generally, on rainfall. This effort has focused on the use of spatial statistics to exploit
correlations in observed rainfall between individual gauges on a daily or even higher
frequency basis and the application of dynamic control areas defined on the basis of
prevailing meteorological conditions.
These spatial statistical techniques were applied retrospectively to the Bundaberg trial
data. It was found that there was a statistically significant elevation in rainfall
downwind of the Atlant site. This is consistent with the hypothesis that ions
generated by the Atlant system were carried to the cloud layer through wind and
turbulence.
The experimental design of the trials and statistical methodology has been the subject
of ongoing exploration and refinement. The decision to conduct the third trial in the
Mount Lofty ranges was a reflection of two factors, First, the trials had been
conducted in Queensland under subtropical and tropical climates, and the Mount
Lofty range trial area allowed the technology to be evaluated under mid-latitude
weather systems, including regular frontal activity. Second, the results from the
Bundaberg trial indicated that a successful trial could potentially generate a substantial volume of rainfall.
The South Australian trial region had experienced an extended period of well below average rainfall,
creating water shortages for commercial and urban users as well as the environment.
A successful trial had the potential to significantly augment supplies in the region.
The results from the first South Australian trial are detailed in the balance of this report.
The Atlant Site in South Australia.
Land and water mass within a 100km radius about the trial site.
Results in 2022 – 2023?….Flood for thought  – Mick Raven
Who is eligible for River Murray flood grants and how much are the payments
Flood watch issued as heavy rainfall expected in Mount Lofty Ranges
Mount Lofty Ranges 28-day Rainfall Forecast
Morgan residents on high alert, as frustration builds with change in River Murray floodwater predictions
Moorook community rallies to save homes from rising River Murray as peak approaches
River Murray businesses losing income over summer holidays amid flood emergency
River Murray peak passes Renmark, up to 1,800 properties flooded so far
Downstream Murray River communities fear the unknown as water peaks at Renmark
Mypolonga dairy farm 'underwater' as Murray River levee bursts with peak still weeks away
River Murray flooding expected to peak on Boxing Day and be at low range of predictions
River Murray flooding to be worst in almost 70 years with hundreds of properties already deluged
Flood and fire-prone communities turn to UHF CB radio networks in disaster preparation
Flood-displaced Victorians told to vacate temporary shelter next year despite many having nowhere to go
Melbourne hit by rain, wind and hail in dramatic weather change, with another cool spell forecast for next week
SA Murray River communities rush to prepare as floodwater threatens to inundate properties
South Australia floods expected to inundate thousands of homes as NT town hit by one-in-50-year deluge
Insurance policies cancelled and premiums increase in Riverland ahead of flood peak
Riverland rangers monitoring Indigenous cultural sites for damage as flood peak approaches
Work to repair more than 50 levee banks underway as burst impacts Murraylands town
SES issues warnings for Murraylands towns, as historic Overland Corner Hotel evacuated
When and where the River Murray flooding is expected to peak in South Australia's Riverland
Floods are engulfing River Murray communities — but irrigators are facing potential water shortages
Owners face uncertainty as levee breach floods Kingston-on-Murray Caravan Park
S.A. FLOOD WATCH AND ACT PREPARE TO EVACUATE
Christmas weather forecast Adelaide, SA to face heavy rain
Spring tracking to become the wettest on record for southeast Australia as wet weekend predicted
All across Australia
Australian Defence Force steps in as Kimberley's flood emergency intensifies
Postcode pricing hikes up home insurance costs for properties outside flood zones
Menindee residents on flood alert as Darling River continues to rise threatening more homes
Floods cut off 'entire road networks' near Queensland-NT border as travellers urged to stay put
SES issues evacuation order for Menindee residents as peak Darling River floodwaters near
In 2022, Australia smashed rain records while floods caused record insurance payouts
Urandangi, north-west Queensland, evacuated ahead of biggest flooding since 2009
Northern Territory transport routes remain closed due to flooding
Victoria Daly Mayor Brian Pedwell says people still sleeping on basketball courts days after Timber Creek flood
Conspiracy claims about NSW and Queensland floods fall flat
How an extreme flash flood wiped out Eugowra in NSW
More above-average rainfall, heatwave for Townsville after wettest spring in 20 years
Moama residents frustrated at dirty water as flooding continues to affect filtered water network
Residents of Wyanbene struggling to access supplies, medicine due to regularly high floodwaters
Just months before Lisa's home was destroyed by floods, her insurer refused to renew her policy
NSW government commits $200m to flood package to improve emergency responses
In flood-ravaged towns like Eugowra, residents face 'nonsensical' flood insurance premiums
Increased risk of snakes, spiders and mosquitoes swarming Victorian riverside communities this Christmas
Australia weather What's behind the country's rain event
Northern Rivers' voluntary home buy backs to start NSW Government
What's happening to Australia's rainfall 2020
Australia floods Unfounded cloud seeding claims spread online
The Science?
Cloud seeding in Australia Weatherzone for Business
Risking Weather Engineering Fiction or Contribution to Conflict Prevention
Rain-making Control Act 1967 (No. 7637). InforMEA
Rain-making Control Act 1967 Vic Australia pdf
Cloud Ionization, Electric Rainmaking, and Laser-guided Weather Modification 2014
New ways to Water – Australian Rain Technologies 2011
Rainmaking in Middle Eastern Desert Success or Scam Live Science 2011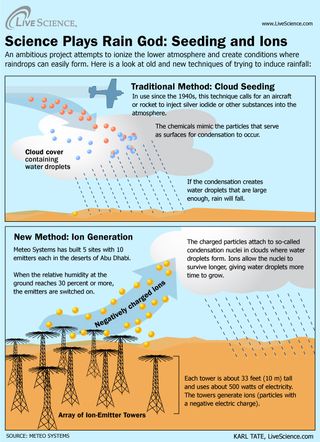 Just for the record – Mick Raven
Rain Drops Keep Falling on my Head
OMG The Sky IS Falling…Literally
Hydro Tasmania asked to explain Cloud Seeding in Catchment Day before Flooding
Climate and floods Flannery is no expert, but neither are the experts
Thousands flee Wagga Wagga floodwaters