Test Tube Food?
This isn't Milk….. Ppl – Mick Raven
Fake milk is real news, as synthetic alternatives threaten traditional dairy farms
Perfect Day Foods is one company creating a synthetic milk alternative. It's similar to milk in that it consists of casein and whey, the proteins found in milk. However, a cow was never used to produce their product. Instead, the animal-free dairy product is made in a lab using genetically engineered yeast programmed with DNA to produce the same proteins found in cow's milk.
Currently, the Food and Drug Administration allows makers of almond milk, soy milk, and rice milk to label their products as "milk." In countries such as England and Canada, where they are much more protective of dairy farming, those plant-based products aren't permitted to use the word "milk," and must use alternatives like "beverage" or "drink." Many U.S. dairy farmers are fighting the FDA to enforce the definition of milk as "lacteal secretion" produced by "the complete milking of one or more healthy cows." While the FDA has the definition in place, historically it hasn't enforced it.
"It appears that the FDA is not very farmer friendly; they are more processor friendly," said Eby. "So if history is our guide, look no further than to see how they have not taken proper care of the word 'milk' and they've allowed it to be exploited. So why would anyone think that this is any different?"
'Synthetic milk' made without cows may be coming to supermarket shelves near you
Synthetic milk does not require cows or other animals. It can have the same biochemical make up as animal milk, but is grown using an emerging biotechnology technique know as "precision fermentation" that produces biomass cultured from cells.
What's brewing Precision food proteins from fermentation – ECOS
To feed the global population of the future, we will need to produce food at a greater scale, and more sustainably, than today.
To meet that gap, well need to derive even more protein from traditional sources (meat, dairy, eggs, seafood, plants) in addition to protein from emerging but complementary sources (yeast, fungi, algae, insects).
Perfect Day applies gene sequencing and 3D printing to make dairy proteins without the need for cows.
The End Game Ppl? – Mick Raven
By 2022, the cumulative effects of overpopulation, pollution and an apparent climate catastrophe have caused severe worldwide shortages of food, water and housing. In New York City alone, there are 40 million people, and only the city's elite can afford spacious apartments, clean water, and natural food. The homes of the elite are fortified, with private security and bodyguards for their tenants. Usually, they include concubines (who are referred to as "furniture" and serve the tenants as slaves). The poor live in squalor, haul water from communal spigots, and eat highly processed wafers: Soylent Red, Soylent Yellow, and the latest product, far more flavorful and nutritious, Soylent Green.
Soylent Green is being produced from the remains of the dead and the imprisoned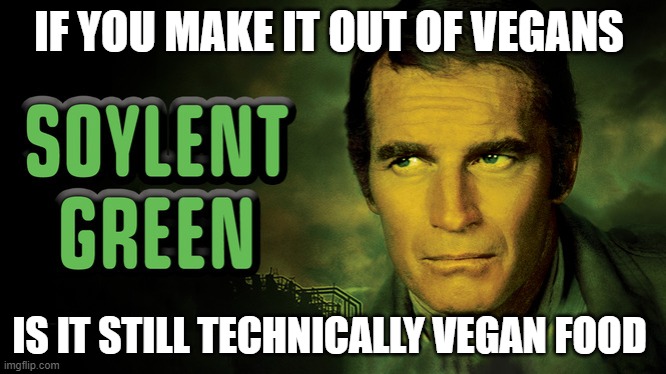 Couldn't resist….Back to the Fake Milk! – Mick Raven
This Futuristic Startup Could Disrupt The Dairy Industry
Perfect Day applies gene sequencing and 3D printing to make dairy proteins without the need for cows.
After securing pre-seed funding via Indie Bio to get the company off the ground, they managed to get the attention of Horizon Ventures. This led to a successful meeting in Hong Kong with Solina Chau, which unleashed the seed money they needed to hire staff and expand research and development.
Temasek's investment in Perfect Day aligns with the firm's belief that strong action is needed to achieve the United Nations Sustainable Development Goals.
In 2015, Mark Steer of the University of West England reached out to Perfect Day to conduct a preliminary life cycle analysis and environmental impact study on animal-free brewed milk compared to milk from cows.
If these numbers turn out to be anywhere close to his projections, it will give Perfect Day and other cellular agriculture companies even more ammunition in convincing companies and consumers that the future of dairy will be made in labs, not farms.
Perfect Day (company) – Wikipedia
To produce whey and casein proteins from non-animal sources, Perfect Day bioengineered microbiota to include DNA sequences that instruct the cells to produce proteins that are conventionally found in cow's milk. The microbiota are then grown in fermentation tanks where they convert a carbohydrate source such as corn sugar into flora-based dairy protein
Bob Iger, chairman of The Walt Disney Company, joined the management board in October 2020. The board consists of cofounders Ryan Pandya, Perumal Gandhi, as well as Iger, Aftab Mathur of Temasek Holdings and Patrick Zhang of Horizons Ventures
'synthetic milk' made without cows may be coming to supermarket shelves near you
Some traditional dairy companies are jumping on the bandwagon. For example, Australian dairy co-operative Norco is backing the Eden Brew project, and New Zealands largest dairy cooperative, Fonterra last week announced a joint venture to develop and commercialise "fermentation-derived proteins with dairy-like properties".
(Read the comments to this article above to see how confused the public is on this new 'Transition' to Non Dairy 'Milk' – Mick Raven)
Milk Shop Ethical! brand comparison
Fonterra Brands Australia Shop Ethical! company profile
A2 Milk Company Shop Ethical! company profile – (Licensed by Fonterra)
Norco Co-operative – Wikipedia
Dairy giant Norco to proceed with mass sacking despite $35 million flood support