Dannielle Maguire
https://www.abc.net.au
29 Aug 2022
Australia's COVID-19 numbers are dropping but experts warn the pandemic will not end this year
Winter's nearly over and, with COVID-19 daily case numbers declining, you could be forgiven for hoping the coronavirus pandemic is coming to an end too.
But experts say that could still be a long way off.
Let's unpack why — after a quick look at the latest COVID figures.
Charts show cases on the decline
Australia reported more than 55,000 new COVID cases on July 21, with health authorities warning of more hospitalisations and deaths.
The ABC's Charting the Spread page shows where the daily case numbers are at now: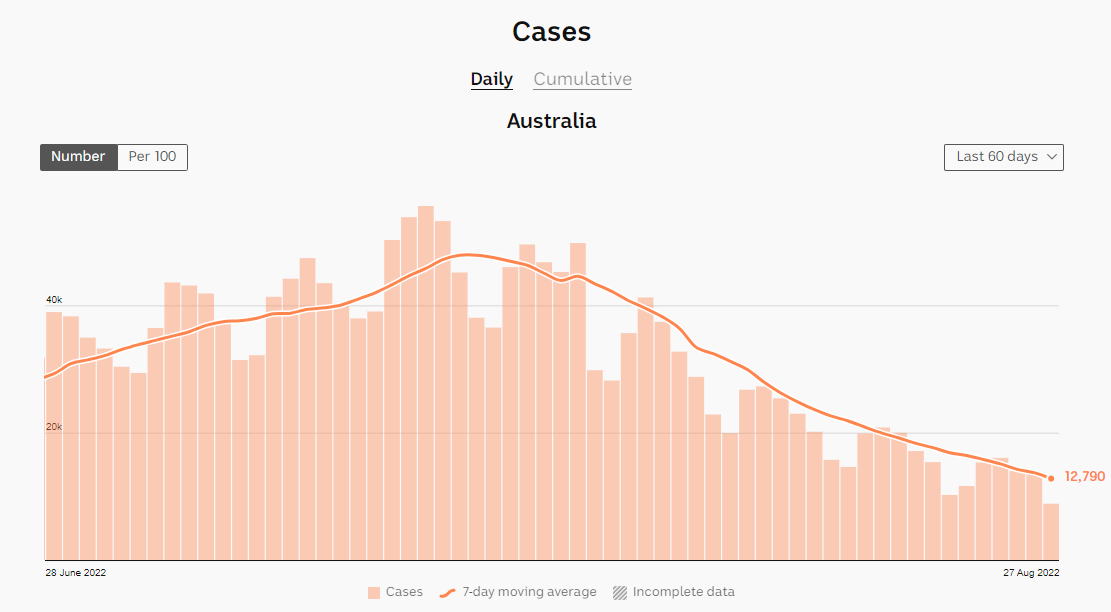 Daily case numbers have decreased in recent weeks. (ABC News)
In the last week, the nation's daily case numbers have hovered between 10,000 and 20,000 cases.
Hospitalisations for the current outbreak peaked on July 26, with 5,571 cases in hospital.
The seven-day moving average has dropped by about 60 per cent since then.
Australia recorded its highest daily death toll on July 29 with 157 deaths.
Back then, the seven-day moving average was 157, on Saturday, it was down to 62.
And Australia's COVID fatality rate is better
Our World in Data, which uses figures from the Johns Hopkins University COVID-19 Data Repository shows Australia's case fatality rate was between 1 and 3 per cent before vaccines.
This month, it's at 0.14 per cent.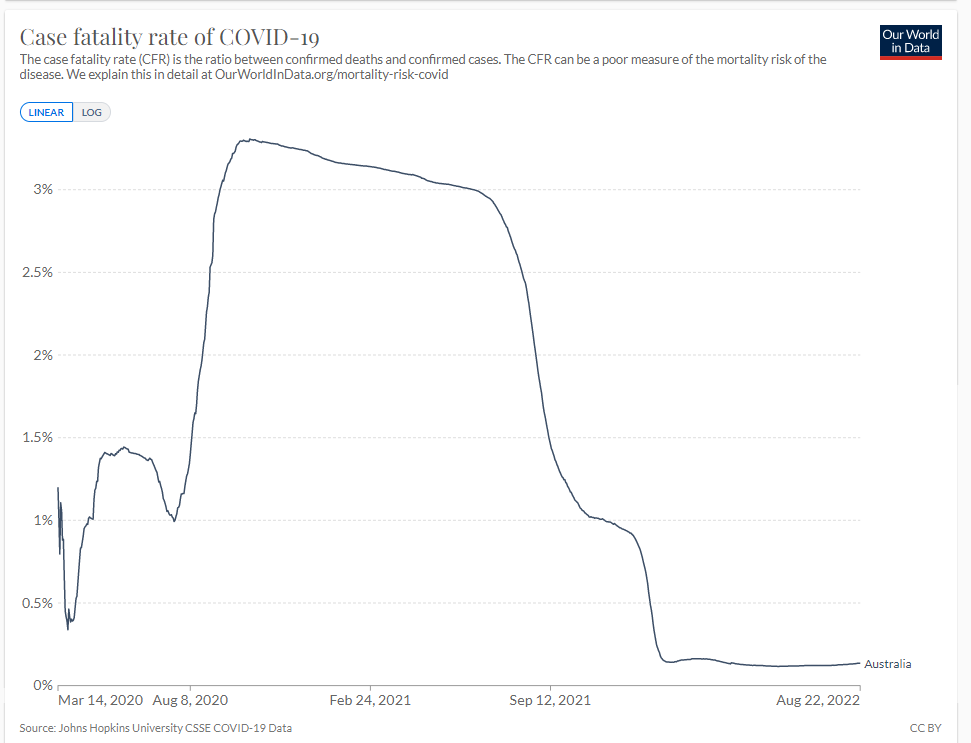 Australia's COVID fatality rate is much lower than earlier in the pandemic. (Our World in Data)
Director of Victoria University's Mitchell Institute for Education and Health Policy Maximilian P de Courten put this improvement down to vaccines as well as better treatments and protocols developed as the pandemic went on.
Don't forget the data that the ABC article is using is from 'Our World in Data' endorsed AND funded by grants from the Bill and Melinda Gates Foundation and the World Health Organization – unbelievable! – Mick Raven
And now the truth….. – Mick Raven
https://www.worldometers.info/coronavirus/country/australia/
31st August 2022
As you can see cases and deaths have been rising alarmingly since 2022 with no end in sight!
Gone? only if 'THEY' say so, wake up Ppl – Mick Raven