That selfie you posted can be used to train machines
Simran Gill
https://www.abc.net.au
19 Jun 2022
You probably don't know it, but you might be leaving something behind when you shop at some of Australia's largest retailers — your face.
Key points:
CHOICE found Kmart, Bunnings and The Good Guys refer to facial recognition in their privacy policies
Bunnings confirmed to CHOICE they use it for "theft and anti-social" purposes
Consumer data advocate Kate Bower says customers aren't aware how their face is being captured and used
Consumer group CHOICE is referring Kmart, Bunnings and The Good Guys to the Office of the Australian Information Commissioner to investigate potential breaches of the Privacy Act over their use of facial recognition technology.
The organisation probed 25 of "Australia's most-trusted retailers", and found Kmart, Bunnings and The Good Guys were "capturing the biometric data of their customers".
CHOICE also surveyed more than 1,000 customers between March and April this year as part of their investigation.
CHOICE consumer data advocate, Kate Bower, said the use of facial recognition by The Good Guys, Kmart and Bunnings was "completely inappropriate and unnecessary".
"To make matters worse, we found 76 per cent of Australians aren't aware that retailers are capturing their unique facial features in this way," she said.
"Using facial recognition technology in this way is similar to Kmart, Bunnings or The Good Guys collecting your fingerprints or DNA every time you shop. Businesses using invasive technologies to capture their customers' sensitive biometric information is unethical and is a sure way to erode consumer trust."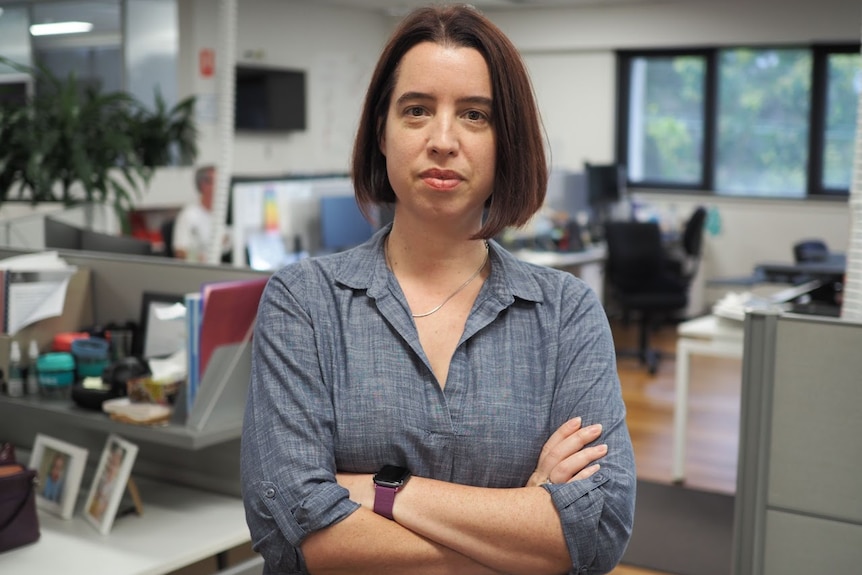 Kate Bower says most consumers aren't aware their face is being captured and stored.(Supplied: CHOICE)
To create the customer "faceprint", images and video from cameras in a store are analysed.
Ms Bower said Kmart and Bunnings displayed "small signs at the entrance of stores where the technology was in use".
"However, discreet signage and online privacy policies are not nearly enough to adequately inform shoppers that this controversial technology is in use," she said.
"The technology is capturing highly personal data from customers, including infants and children."
The ABC has contacted Bunnings, The Good Guys and Kmart for comment.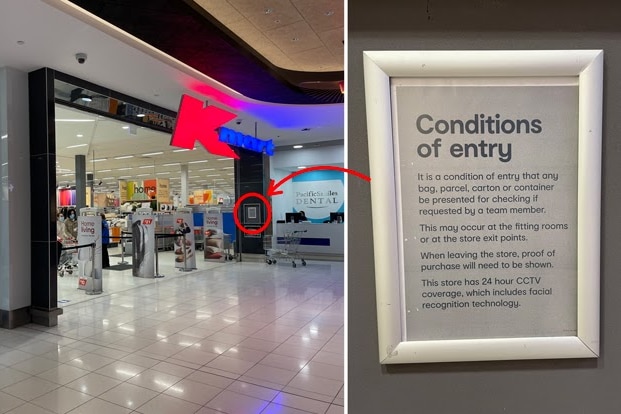 CHOICE says most customers are not aware some retailers are using facial recognition technology.(Supplied: CHOICE)
Bunnings' chief operating officer Simon McDowell told CHOICE the technology was used to "identify persons of interest who have previously been involved in incidents of concern in our stores".
"This technology is an important measure that helps us to maintain a safe and secure environment for our team and customers," he said.
"We let customers know about our use of CCTV and facial recognition technology through signage at our store entrances and also in our privacy policy, which is available on our website."
Respondents to CHOICE's survey described the tech as "creepy and invasive" while others considered it "unnecessary and dangerous".
Of the more than 1,000 respondents, 65 per cent said they were concerned about stores using the technology to create profiles of customers that could cause them harm.
"I think that's where people start to become concerned, that this could be used in ways that could really hard for an average consumer to understand," CHOICE chief executive officer Alan Kirkland said.
Monash University media professor, Mark Andrejevic, said the technology was likely to become more widespread as it became more affordable and effective.
"The first concern is notice and consent, it's not in highly visible forms of public notification that would invite people to understand what's taking place," he said.
"I think the other set of concerns is we don't have a clear set of regulations or guidelines on the appropriate use of the technology."
Former Human Rights Commissioner, Edward Santow, flagged concerns around surveillance.
"Even if that technology was perfectly accurate, and it's not, but even if it were, it also takes us into the realm of mass surveillance," he said.
"And I think there will be great concern in the Australian community about walking down that path."
CHOICE is also calling on the federal government to create a guide to protect consumers who don't want their "faceprint" on file.
More links to this Article – Mick Raven
Adelaide City Council votes against purchasing facial recognition software for city security cameras
Police have refused to speculate on whether they would invest in facial recognition software after Adelaide City Council voted unanimously not to include the technology in new security cameras being installed across the CBD.
SA Police could use Adelaide city facial recognition technology, despite being asked not to
South Australia Police has indicated it will use the facial recognition capability of new security cameras being installed in Adelaide, despite being asked not to by the Adelaide City Council.
Our Alliance is creating smart city governance World Economic Forum

Experts from more than 50 global organisations have been collaborating through the Alliance to develop a first-of-its-kind global policy roadmap on smart city technologies.
The pioneer cities that have been adopting the roadmap and guiding its development towards smart city governance are: Apeldoorn, The Netherlands; Barcelona, Spain; Belfast, UK; Bengaluru, India; Bilbao; Spain; Buenos Aires, Argentina; Bogota, Colombia; Brasilia, Brazil; Chattanooga, USA; Cordoba, Argentina; Daegu, South Korea; Dallas, USA; Dubai, UAE; eThekwini, South Africa; Faridabad, India; Gaziantep, Türkiye; Hamamatsu, Japan; Hyderabad, India; Indore, India; Istanbul, Türkiye; Kampala, Uganda; Kaga, Japan; Kakogawa, Japan; Karlsruhe, Germany; Leeds, UK; Lisbon, Portugal; London, UK; Maebashi, Japan; Manila, Philippines; Medellin, Colombia; Melbourne, Australia; Mexico City, Mexico; Milan, Italy; Muscat, Oman; Newcastle, Australia; Pittsburgh, USA; San Jose, USA, Tampere, Finland and Toronto, Canada.
AI can bring you the voice of dead loved ones. But is this a good thing – Very disturbing – Mick Raven
Amazon announced on Wednesday it was working on an update to allow its Alexa digital assistant to mimic any voice, even that of a deceased family member.
Mixed views over federal government's promise to scrap Cashless Debit Card
16,000 welfare recipients in these areas have been forced to use a card — operated by the private company Indue — which limited how much cash they could access The Mayor of Fraser Coast Regional Council, George Seymour, said "It's almost like they're guinea pigs in this experiment that no-one was actually analysing,"
Federal government looks to fix, rather than dump, controversial changes to unemployment benefits
Workforce Australia, which will require job-seekers to earn 100 points a month