Dictator Dan = FAIL – Mick Raven
Construction restrictions to lift in NSW,
unvaccinated workers permitted to return to work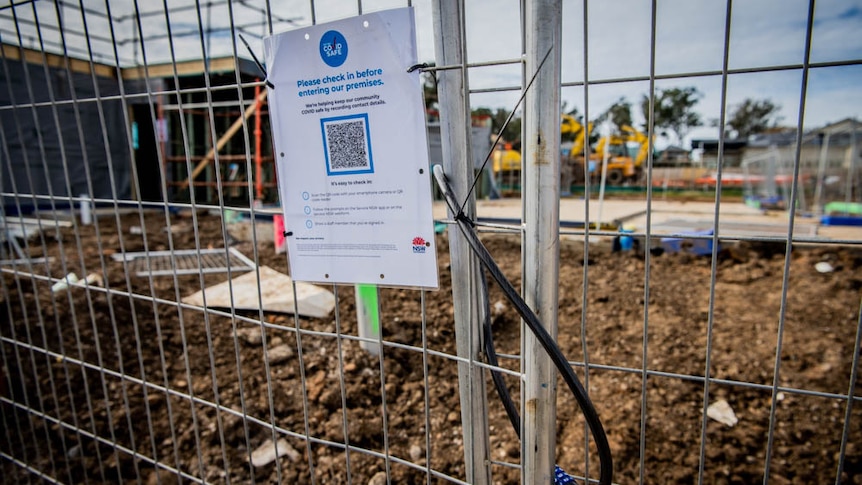 An empty construction site in south-west Sydney during its lockdown. (ABC News: Brendan Esposito)
The NSW construction industry will return to 100 per cent capacity in just under a week, the state government has announced.
Key points:
Unvaccinated workers can return on-site under a COVID-safe plan
Any person from the 12 LGAs of concern must still register to work outside their region
The announcement comes as Melbourne's construction entered a snap shutdown
From Monday, September 27 the rule limiting construction sites to 50 per cent capacity if they have any unvaccinated workers will be removed.
All constructions sites will be able to have one person per four square metres even if unvaccinated workers are present.
However, workers from the 12 Sydney local government areas (LGAs) of concern will still only be allowed to leave their area for work if they are vaccinated.
Anyone from the LGAs of concern — Bayside, Blacktown, Burwood, Campbelltown, Canterbury-Bankstown, Cumberland, Fairfield, Georges River, Liverpool, Parramatta, Strathfield and some suburbs of Penrith — must also continue to register to work outside of their area.
These changes have already been published on the NSW government website.
The Property Council of Australia welcomed the announcement, with its NSW executive director Luke Achterstraat saying it will provide "employment security to workers across the state".
"Resuming site capacity will also enable NSW to build the homes our state so desperately needs, the public transport our growing population demands, and the hospitals we know are critical to our states wellbeing and prosperity," he said.
The VICTORIAN construction industry Protests…
Riot police guard Melbourne CFMEU HQ as construction protesters return to CBD
Victoria Liberal leader calls on Daniel Andrews stop 'shirking leadership' amid violent protests
CFMEU boss John Setka blames construction worker protest as reason for industry closure
Daniel Andrews has 'led Victoria into civil disorder'
'All but certain' Andrews govt will drop vaccination requirements on building sites
Melbourne protesters vow to return for third day of demonstrations on Wednesday, construction vaccine mandate
Protesting construction workers block West Gate Freeway Coronavirus
Dan Andrews made a 'catastrophic political blunder' with construction shutdown
The public is 'starting to turn' on 'authoritarian' premiers
And?
Andrews' secret deal part of China's strategy to operate 'without federal oversight'