Firefighters lose control of 'mega-blaze' backburn, homes destroyed
Jenny Noyes, Nick Moir, Laura Chung and Peter Hannam
https://www.smh.com.au
December 16, 2019
A bushfire emergency that destroyed a number of homes in the Blue Mountains on Sunday night was sparked by a "crucial" backburn that got away, the Rural Fire Service (RFS) has confirmed, as firefighters continue to work on containment ahead of deteriorating conditions.
Firefighters have been carrying out backburning for a number of days along the southern edge of the massive Gospers Mountain fire, which has burnt through about 380,000 hectares of the Wollemi National Park, ahead of severe heatwave conditions forecast for the end of the week.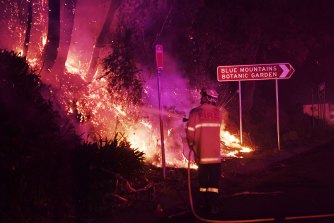 Firefighters work on a roadside fire overnight at Mount Tomah. Credit:Nick Moir
RFS spokeswoman Angela Burford said the backburning operations were "absolutely crucial because we do still have quite a large fire front moving south towards these properties".
But the possibility of embers crossing containment lines and starting spot fires is "the risk we take", she said, and that is what occurred on Sunday afternoon. Once the embers crossed the containment line, the fire ran towards properties in the area and jumped the Bells Line of Road, forcing emergency evacuations.
On Monday afternoon, the fire in Palmers Oaky, 55 kilometres from Lithgow, was upgraded to "emergency warning" and was moving in a north-easterly direction towards Castlereagh Highway.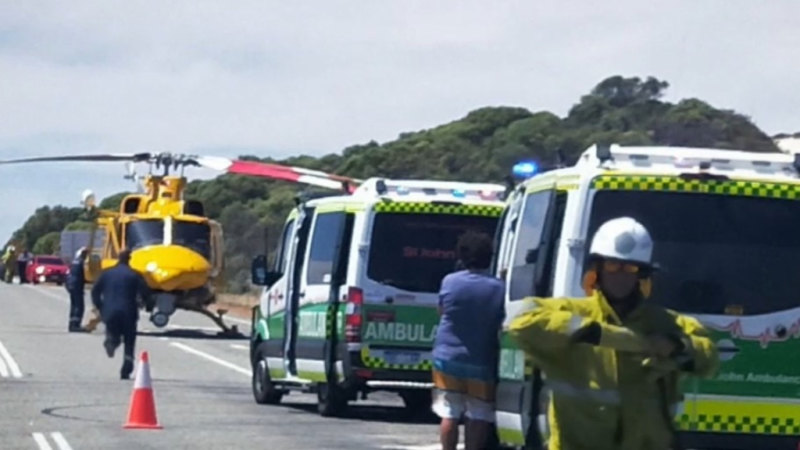 Controlled back burning backfire
Today in the Blue Mountains a controlled back burning operation spiralled out of control, destroying up to 20 properties.
Meanwhile, the Gospers Mountain fire was upgraded "emergency warning" level. The fire is more than 378,000 hectares in size and is being controlled.
The massive fireground stretches from the Lithgow area in the west, through the Hawkesbury area and towards the Central Coast in the east. It's one of about 100 fires burning across NSW on Monday, with more than half of those burning out of control.
The RFS has received a number of reports of property losses around Mount Wilson and Bilpin, Ms Burford said, but as "there's still a lot of active fire" in the area, building assessment teams have not yet been able to confirm the numbers.
At least five homes were destroyed overnight but there are fears the number could run into the dozens, including the homes of firefighters.
The Mount Tomah Botanic Gardens has been closed due to damage and the ongoing fire threat. A statement on the website on Monday said "the impact on some parts … appears to be significant", although most of its "living collection" and all the main buildings are "safe at the moment".
'It's like the end of the world'
Among the properties under threat in Bilpin are the Hillbilly Cider Shed and Farm Panaroma – the farm belonging to Sean's Panaroma chef Sean Moran and partner Michael "Manoo" Robertson.
On Monday morning, Mr Robertson said his farm had not been burnt but the fire was "all the way around us" and one of his friends had lost a home. He said he had brought the farm animals as close as possible to the house and into paddocks with the shortest grass.
Apart from continuing to feed the animals and water the vegetables, he said they were "lying low" and trying to stay away from the smoke with towels tucked under their doors.
"It's like the end of the world. I don't have words to describe it. If you stop and think for too long you'll just burst into tears."
The huge bushfire damaged homes on the Bells Line of Road in the Blue Mountains.Credit:Nick Moir
Hillbilly Cider Shed owner Shane McLaughlin, whose property is about 35 acres, has a pallet of cider in his shed that he said would keep him and his neighbours going over the next few days.
He said he would stay to defend the property no matter what, something he was also forced to do in 2013 when fires ripped through the area. Sunday afternoon had been a "hairy" day as the fire burnt about 10 to 15 per cent of the property, and he said conditions hadn't eased overnight.
"Everyone is staying upbeat, we're pretty hardened here, we know it's coming. We've seen it before, the best way to deal with fires is to have lived through one before," he said.
Bilpin Fruit Bowl owner and NSW RFS volunteer Margaret Tadrosse, who has lived in the area for 35 years, said these were the worst fires she'd seen and the community was "screaming".
Bilpin farmers and shop owners rely on the weekend summer rush to make money from buyers coming to the area to pick their own fruit.
"We wait for the weekend tourist trade, but that didn't happen this weekend [because of the fires]," she said. "It's so close to Christmas, we've gone through the quiet spell, everyone is screaming because they were hoping for a big weekend," she said.
She said while her property remains clear from any immediate fire danger, it's a "day by day, hour by hour" situation.
Sam Ramaci, has lost a cool room full of fruit for his Bilpin business, but managed to save his house.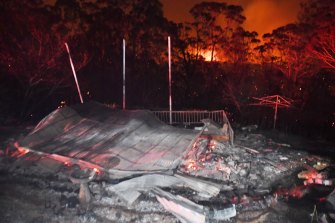 At least five homes were destroyed when the backburn got away from firefighters on Sunday night. Credit:Nick Moir
"We didn't think anything like this was going to happen," Mr Ramaci said as a helicopter buzzed overhead after re-filling its bucket at a dam nearby.
The cost of rebuilding the uninsured cool room will run to $20-30,000, adding a financial burden to a business already struggling because the Gospers Mountain fire to the north had kept visitors away.
Bilpin residents took to social media to express anger at overly tight police roadblock controls.
A young resident got caught on the wrong side of the roadblock after taking his dog for a walk and was blocked. A taxi sent to pick up an elderly resident out of the fire zone was not let through. And a water truck sent up to fill tanks also couldn't get through.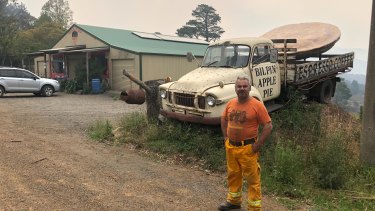 Sam Ramaci managed to save his house but lost a cool room full of fruit to the fire. Credit:Peter Hannam
"They have a job to do, but this is beyond a joke. Not even letting water trucks through to fill peoples' tanks … Very rude and disrespectful," a Facebook poster said.
Brian Williams, vice-president of the Volunteer Fire Fighters Association and a brigade member who has been out fighting the fire near Bilpin, said crews were exhausted after weeks of fighting the blazes.
"You come home at night, your lungs are burning, your eyes are sore," he said.
"You're carrying an enormous amount of smoke inside."
The big concern at present is the blaze in Grose Valley which "has the potential [to be] quite a bad fire" in terms of the number of properties threatened, Mr Williams said.
He said the very steep mountain terrain, which had a heavy fuel load, made it "very hard to build containment lines".
He said the fire could burn from Bowen Mountain to Yarramundi, with the possibility of extending to Springwood.
"It could go back to Katoomba," Mr Williams said.
The concern is that the coming extreme heat, with low humidity, high winds and big fuel load will significantly expand the fire.
"It's a very dangerous mix," Mr Williams said. "It's such an enormously big fire, it's beyond human ability to control.
Heatwave looming
With a severe heatwave forecast to hit NSW towards the end of the week – including temperatures tipping over 45 in Sydney's west on Saturday – Ms Burford said firefighters would continue to make use of relatively mild conditions in the couple of days they have to backburn before the weather deteriorates.
Saturday's extreme heat is shaping up to be the big challenge, she said. "[Fire danger is] not forecast at this stage to be 'catastrophic' but it is certainly going to be horrendous conditions for the firefighters on the ground."
RFS deputy commissioner Rob Rogers told the ABC on Monday morning there would be "a lot of work going on over the next 24 hours to try and just see what we can do to protect as many properties as we can".
But he said people "should be under no illusions, we're not going to get this fire put out and we're going to have to get through this next week of really hot weather with these fires being very active".
Man made Catastrophic Bush fires and Chem Spraying Aircraft mmm, Class action to Follow? – Mick Raven