Violence sweeps Hong Kong after face mask ban
Hong Kong's public transport network, supermarkets and some shopping malls were closed on Saturday after a government ban on face masks used by protesters triggered one of the worst nights of violence in more than four months of unrest.
Asia's financial hub was at a near standstill on Saturday as residents stayed at home, fearing an escalation of protests over the weekend.
There were also growing fears the Hong Kong government, which invoked emergency laws to ban face masks at midnight Friday, would take harsher measures to contain the unrest.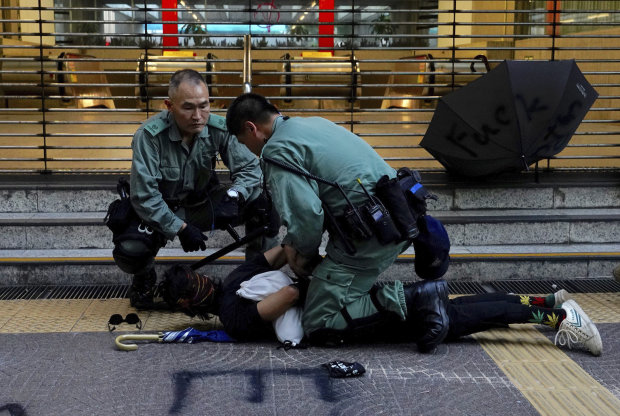 Hong Kong police detain a protester on Saturday as crowds took to the streets in spite of a ban on masks. All subway and train services were suspended, lines formed at the cash machines of shuttered banks, and shops were closed. AP
Chief executive Carrie Lam's decision Friday to ban the masks, which tens of thousands of protesters have been using to hide their identity and protect themselves from tear gas, backfired spectacularly.
Violence broke out throughout the city on Friday night when protesters lit fires at the entrance to metro stations and clashed with police. A 14-year-old was shot in the leg and was in a serious condition in hospital, according to local media. Police said an officer had fired a shot believing his life was under threat but did not confirm whether anyone was hit.
On Saturday morning, Hong Kong's extensive rail network known as the MTR was entirely shut down for the first time in the city's history. Some Shopping malls, a major supermarket chain and some banks were also closed on Saturday morning.
"After the outbreak of violence at multiple districts, maintenance staff have to make sure of their own safety before they can travel to the damaged stations to inspect and assess the extent of damages at our stations, and to carry out repair work," rail operator MTR said in a statement.
Local residents said the shelves of some supermarkets that remained open were empty, while there were long queues at bank cash machines. However, several Australians living in Hong Kong told The Australian Financial Review they had seen no evidence of panic stockpiling.
Pro-democracy protesters set a fire at the entrance of the Causeway Bay MTR station during a demonstration on Friday night.  Getty Images
Ms Lam broadcast a video on Saturday morning defending her decision to invoke a law introduced under British rule to try and stop protests she said were "destroying the city". Face masks are banned during protests in France and some other countries.
The move, which had been flagged in local media before being announced, was always going to backfire, according to the government's critics.
"Hong Kong has entered the era of totalitarian dictatorship," local politician and internet entrepreneur Charles Mok tweeted, reflecting the views of many demonstrators concerned about the erosion of civil liberties in the city under Chinese rule.