Australians in Hong Kong say this could change everything
Kirsty Needham
https://www.smh.com.au
June 21, 2019
Hong Kong: When Australian academic Julia Bowes was offered a job at Hong Kong's oldest university, she "definitely" considered the potential of both social unrest and encroachment by communist China.
But still she saw Hong Kong as a more attractive offer than the United States, where she completed her PhD.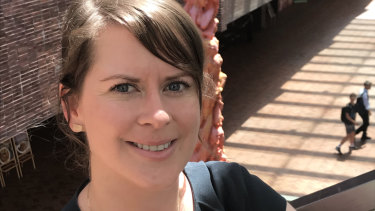 Bowes teaches the history of American protest movements at the University of Hong Kong, where the 1989 Tiananmen Square massacre in Beijing is commemorated with a Pillar of Remembrance formed from contorted red bodies. Here, in the former British colony, she says the university staff enjoy "extreme freedom".
But the extradition law proposed by the Hong Kong government has her and others worried, because it would allow someone in Hong Kong to be sent to mainland China to face trial under the communist system.
Hong Kong chief executive Carrie Lam suspended the bill after millions of Hong Kong people marched in the streets.
But if Beijing continued to push to change the legal system that gives Hong Kong autonomy and freedoms, Bowes thinks the many foreign academics at the universities would leave.
"We are in such a privileged position. We have a passport and can leave," she says.
"For the arts and humanities that depend on free speech and criticism as their basis for intellectual inquiry, people would be worried. We don't want to become a Chinese university."
Protests in Hong Kong's Admiralty area continued on Friday with protesters surrounding the police building, after Lam refused the protesters' calls to withdraw the bill and investigate the use of rubber bullets against students.
Edward Farrelly, senior vice-president and real estate industry leader at insurance broker Marsh, has lived in Hong Kong for eight years. Recent events pose an unprecedented risk to foreign business, he says.
Farrelly's concern is not about the street protests, which he says occur in a small area of the city, but about the extradition law itself.
Hong Kong didn't cede its crown to Singapore as Asia's most attractive financial hub during the Global Financial Crisis, or the 2014 Occupy Central democracy protests, says Farrelly.
"Companies didn't move to Singapore. That was because of Hong Kong's ease of business, rule of law and access to China," he says.
But this time there is a risk the mantle could slip.
"The risk element now is that this has the potential to affect those key areas. It is a change of law we are talking about," he said.
Many companies have been based in Hong Kong, where the legal system provides certainty, to serve Chinese clients across the bridge.
Around 100,000 Australians live in Hong Kong – one of the largest Australian expatriate communities. Six hundred Australian companies have offices, including the major banks there. A free trade agreement with Australia was signed by Hong Kong in March.
Australian Peter Cunich, who has lived in Hong Kong for 26 yearsl teaching at the University of Hong Kong, said this was "much more serious" than previous periods of unrest.
A lot of students talk about their fears that in 30 years it will be just another … Chinese city and they won't be able to live here.

Australian academic Julia Bowes
"Last Sunday's protest was the largest we have ever seen. It is now being talked about by expatriates more so than in the past, because we can see how this might affect us in ways that previous rounds of legislation probably wouldn't have," he said.
"Extradition is something that does apply to everyone in the jurisdiction – we are now included in a rather frightening way."
Bowes's students would have been 14 years old when the Umbrella Movement brought Hong Kong's centre to a standstill for 79 days.
"The undercurrent here, for the last five years, has been this strong sense that the Umbrella Movement was unresolved or people felt discouraged by the end result. Which can explain how quickly people turned around and got to the streets this time," she says.
"A lot of students talk about their fears that in 30 years it will be just another Shenzhen or Chinese city and they won't be able to live here long term."
Opposition to the extradition bill has forged a "really broad-based movement".
"They don't have democratic rights in Hong Kong but they really, really are proud of the rule of law," she said.