Jane Gilmore, Goya Dmytryshchak, Craig Butt and Liam Mannix
www.thecourier.com.au
January 7 2018
Teenager charged following fire in Carrum Downs
A 15-year-old girl has been charged with intentionally causing a bushfire that left one Carrum Downs family without a home on Saturday.
The blaze started about 3.15pm at the Pines Flora and Fauna Reserve in Carrum Downs and soon threatened
homes bordering the reserve. It travelled very quickly, powered by the northerly gusts of up to 40km/h.
At the height of the fire there was more than 300 firefighters battling the blaze, along with 50 appliances including three helitankers.
Dozens of residents, mainly from McClelland and Darnley drives, were evacuated as several homes were threatened by fire but by 7pm they were allowed to return.
The cool change did not intensify the Carrum Downs fire as feared and the blaze was brought under control about 8pm, emergency services reported.
One house was damaged but luckily no on was injured by the blaze.
Frankston Crime Investigation Unit charged the teen with intentionally causing the bushfire and she has been bailed to appear in the Children's court at a later date.
Temperatures plummet in Melbourne but remain high in state's north
After peaking at 42 degrees on Saturday, temperatures dropped 15 degrees between 5.30pm and 6.30pm and remaining relatively mild overnight with a low of 18.
The mild weather will continue for Melbourne, staying below 26 degrees for the first half of the week until a warmer 34 degrees on Thursday. Temperatures will drop again on Friday with an expected rainy 30 degree day and a mild weekend.
A Bureau of Meteorology spokesperson said that while the temperature was extreme it was not unusual for this time of year. "The most remarkable thing about it is it's the first day over 40 degrees since 13th January 2016," he said. "We didn't have a single day over 40 last summer, which is quite unusual for Melbourne."
Meanwhile in Sydney, temperatures are expected to climb to 40 degrees on Sunday with areas in the west expected to experience temperatures into the mid-40s.
Forecasts for Western Sydney are ever higher, with an expected top of 45 predicted for Penrith and Richmond.
Bushfires under control
While some small bushfires are still burning around the state, a spokesperson for the State Control Centre says they are all under control.
The spokesperson said that while conditions in the city and surrounding districts remain low to moderate, the north and northeastern areas of the state are still at risk.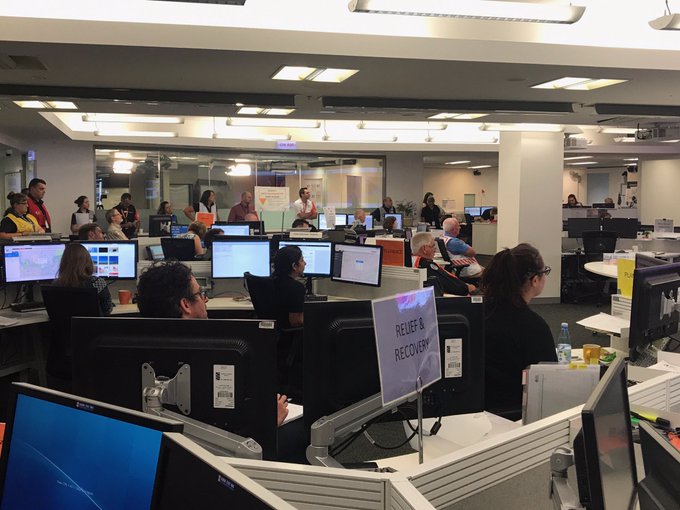 Victoria had a hot, dry and windy Saturday with plenty of fire potential and heat stress opportunities. 114 grass and bush fires and 25 structure fires. Cooler today except North East. Well done Victorians for being tuned in and looking after each other.
9:28 AM – Jan 7, 2018
The Mallee and Wimmera are expected to see temperatures in the high 30s on Sunday. The State Control Centre is also keeping a close eye on northeast Gippsland areas, which may be at risk.
Fires in Serpentine, Smythesdale, Carrum Downs, Hastings and the Riverina are still burning but under control.
Thousands of Victorian homes were left without power
Thousands of Victorian homes were left without power on Saturday.
Electricity supply has been restored to nearly 6000 homes across the western suburbs after outages across the Powercorp network left residents in Albanvale, Ardeer, Caroline Springs, Burnside, Cairnlea and Deer Park without light, fans or air conditioning on the hottest day for nearly two years. The cause of the outage is still being investigated.
Caroline Springs was hardest hit with a total of 2055 homes in the dark. Albanvale, Ardeer, Burnside, Cairnlea and Deer Park also had a high number of homes without power.
Hundreds also  lost power in in Yarraville and Williamstown, with the cause deemed weather related.
Thankfully for Melburnians missing fans and air conditioners, a cool change saw the temperature drop by 10 degrees in three minutes at 5.50pm in Melbourne's CBD — from 41.4 degrees at 5.50pm to 31.4 degrees at 5.53pm.
By Sunday morning distribution network were reporting no significant unscheduled outages anywhere in Victoria.
Two men drown, toddler and woman rescued after weekend scorcher
Two men drowned off beaches in Melbourne's western suburbs and several people were rescued from beaches around the state on Saturday.
The first man had got into trouble near the Altona boat ramp at Seaholme, 10 kilometres south-west of the city, about 4.30pm.
Police said three men were swimming in water off the boat ramp when they began struggling.
Passers-by on jet skis pulled the men to shore, and CPR was carried out on one of them. The man, who is yet to be identified, died at the scene, and police will prepare a report for the coroner.
The second man, aged in his 40s, was swimming with a friend near the Timeball Tower in Williamstown when he got into trouble shortly after 6pm. His friend brought him to shore where members of the public tried to resuscitate him, but he died at the scene.
Earlier in the afternoon, a drowning girl was rescued from a pool and remains in a critical condition. Ambulance Victoria's Paul Holman said the toddler had been rescued from a pool in Clifton Hill.
He said the girl was resuscitated at the scene and was rushed to the Royal Children's Hospital, where she remains in a critical condition.
Lifesaving Victoria lifeguards had pulled people from the water at several beaches, but nobody had suffered serious injuries, he said.
A woman was rescued at Anglesea and taken to the Geelong Hospital in a serious but stable condition, an Ambulance Victoria spokesman said.
– with Joe Hichchliffe