What works and what doesn't? CHOICE tests tools that let you access Netflix's international libraries.
Watching overseas Netflix – what works?
Netflix has announced it will stop customers from using proxies and unblockers to access the service in other countries. CHOICE has tested which services are still working to help consumers watch the international library of content.
Want to watch more than just Australian Netflix? CHOICE has tested a range of services designed to let you get around geoblocks.
Netflix recently announced it will block Australian subscribers from accessing its international libraries of content via proxy services and 'unblockers'.
Netflix built an Australian subscriber base of 340,000 people before launching here officially. These Australians joined Netflix solely to access the TV shows and movies available overseas.
CHOICE asked for your tips on what services work when you want to watch a show such as Marvel's Agents of S.H.I.E.L.D. – a series available to Netflix US consumers, but not to TV addicts here in Australia.
We tested your suggestions in our labs, to find out what still works – and which services Netflix is clamping down on. See the table below for our results.
How we tested
Our CHOICE lab experts attempted to access US Netflix and watch a show using a Windows laptop running Firefox, Chrome and Edge, and an iMac running OS X (Safari). If our testers were able to stream the show, this is indicated with a 'Yes' in the table above.
While all the 'Yes' services worked in our labs during testing, we do note that we have received reports from some consumers who have had problems accessing international Netflix with some services listed in the table.
The test was last conducted between 19th of January and 1st February 2016. We will be updating this page as more consumers send us tips – check back regularly for up-to-date information.
FAQ
Is this legal?
The Prime Minister himself is of the view that it is not illegal to use a VPN to access overseas content. CHOICE agrees that circumventing a geoblock to watch US Netflix is not illegal under Australia's copyright law. Some copyright experts claim that anyone who promotes devices or programs that encourage people to infringe copyright is breaking the law. This may be a fair interpretation of the law, but CHOICE does not believe that consumers who access paid content from overseas libraries are infringing copyright.
What about the terms and conditions?
While it is not illegal to use one of the listed services to watch US Netflix, this could still breach the terms and conditions of your contract with Netflix. If you're found out, your account could be cancelled, losing credit and access to your profile.
Won't Netflix just use this list and block the services that work?
Netflix has stated that it will "employ the same or similar measures other firms do" in order to prevent consumers using proxies and unblockers from watching content from overseas. We're not sure how Netflix will target services, but CHOICE will update this page regularly and re-test services so that consumers who want to watch international content have the best information possible to help them.
Also….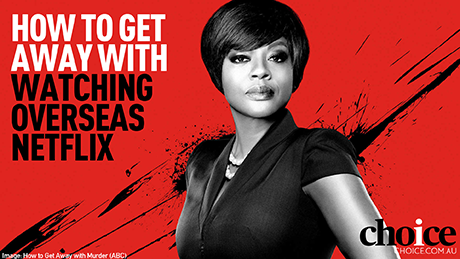 How can you watch international Netflix services? We've done the tests to help you out.
We've just released our guide to which VPNs and proxys work to let Australian consumers watch US and other international Netflix. Check out the results on CHOICE's website.
To help Australian consumers fight Netflix's crack-down on VPNs, our campaign supporters provided us with tips on which services still work, and which don't.
We've been busy testing these in our labs, and have put the results in a free guide for you.
It's not too late to help shape the guide – send us your tips on which VPNs work and which don't.
We'll be updating the guide frequently to track whether or not Netflix's crack-down is working. Watch this space!
Thank you for helping us and other Australians access legal content at a fair price.